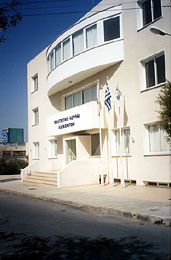 The Karavas Cultural Foundation was created and operates on an equal basis by the Karavas Municipality and the "Karavas" Refugee Association with the fundamental aim of being the cultural lighthouse to maintain the memory of our occupied town until the blessed hour of return, the reunion of all Karavas inhabitants and the cultivation of a fighting spirit, cultural creativity and mutual aid.
The premises of the Karavas Cultural Foundation are built on state property that was leased to the Karavas Municipality in the Costas Theodorou area in Strovolos, Nicosia. Among others, the premises host a reception hall, offices, a library, a canteen and space for a Folk Art Museum.
In the efforts to build the premises, there were many supporters who contributed significantly with their financial assistance to make this initiative a successful one. We are very pleased that this initiative was embraced by all the people of Karavas.
Nicos and Elpida Shiacola made a large donation of 50,000 pounds and have also offered the amount of 100,000 pounds to create a scholarship fund for young people with a originating from Karavas.
During the inauguration of the building, on the 3rd of November 2001, the Council of the Foundation pronounced Nicos and Elpida Shiacola Great Benefactors of the building and in their honour the large reception hall was named after the couple.
The inauguration of the building was done by the Minister of Education and Culture Ouranios Ioannides and was attended by many ministers, members of parliament, the Government Spokesman, the Ambassador of Greece, and former President of the Republic Georgios Vassiliou. A blessing was given by the Metropolitan Bishop of Kyrenia Pavlos.
The Karavas Cultural Foundation has already hosted many events of a social, national and cultural nature. The premises are also at the disposal of other organised groups of the Kyrenia District, always aiming at best promoting our historical tradition and the struggle to return to our beloved land.
Contacts:
Address: 2, Militos Street, 2028 Strovolos, Nicosia
Telephone: +357 22516937
Fax: +357 22516941
E-mail: [email protected]