Mayor's Message
Grettings by the Mayor of the Municipality of Karavas, Mr. Nicos Hadjistephanou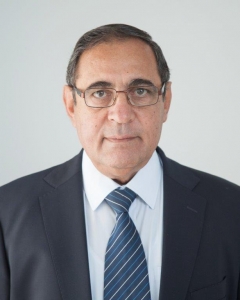 Dear people of Karavas,
We assume our duties as Mayor and Municipal Councilors of our occupied Municipality with our thoughts fixated on our beloved Karavas.
I would firstly like to express our gratitude to those who contributed to our election and especially to the local representatives of the AKEL, DISY, DIKO and EDEK parties, who accepted  the Municipal Council, School Board and Mayor, without having to resort to further electoral procedures. I would especially like to thank the outgoing Mayor, my friend and long-time partner Giannis Papaioannou for his positive contribution to maintaining unity among the people of Karavas and for everything he has offered to Karavas up to the present moment, over the course of three consecutive successful terms. I would also like to thank all his colleagues of the Municipal Councils. We would like to express our thanks to the members of the Municipal Council who did not run for re-election, Maro Hadjistephanou, Lambros Maouris, Dimitris Epiphaniou and Despo Eftychiou. I would also like express my thanks to the outgoing President of the School Board Mr. Christakis Christoforou and to the members who have departed. We promise to devote all our strength and energy to continue the tremendous effort done so far, whilst also adding our own identity to it. We will fight for our beloved Karavas based on our vision and our determination. We shall do this in a collective and organised spirit for everyone, but most importantly, for the young generations that constitute our hope and our future. In this effort, we need everyone's contribution and support, because everyone's help is valuable.
Dear People of Karavas,
For the past 47 years, Karavas has lied enslaved under the vile occupation of the Turks. It has been pillaged and is now almost unrecognisable. Nonetheless, no matter what has become of Karavas, it is our land, the land of our forefathers. It awaits our return.
Το return to our homeland is indeed a very difficult task, yet not an insurmountable one. United, we can succeed. Our unity and common spirit, manifested by the Fellowship of the People of Karavas gives us all hope. It is therefore our sacred duty to protect this sense of unity and to reinforce it.
I call upon every one of you to stand with us in our hope-and-faith-driven attempt to one day be able to return to our beloved land, a Free Karavas.
I wish that this New Year will be prosperous for all of you. I also hope that this will be a landmark year, a year when Cyprus will finally be Free, United, and Peaceful. A year when the Cyprus Problem will be solved and will  allow us, the people of Karavas, as well as all other refugees to return to our homes and land with Freedom, Security, and Dignity.
Municipal Committees
Finance Management Committee
Nikos Hadjistephanou – Mayor
Panikos Manolis – Deputy Mayor
Chrysanthi Epiphaniou
Kostas Konstantinou
Marios Mouyis
Nikos Papapetrou
Alexis Postekkis
Sotera Potamitou
Kyriakos Hadjinikolaou
Events Committee
Nikos Hadjistephanou – Mayor
Panikos Manolis – Deputy Mayor
Chrysanthi Epiphaniou
Kostas Konstantinou
Marios Mouyis
Nikos Papapetrou
Alexis Postekkis
Potamitou Sotera
Kyriakos Hadjinikolaou
Yiannis Papaioannou
Pitsa Protopapa
Nelli Loukaidou
Maro Hadjistephanou
Kostas Pateras
Andreas Pateras
Andreas (Rikkos) Charalambous
Christoforos Tsangaridis
Androula Assiotou
Publications Committee
Nikos Hadjistephanou – Mayor
Panikos Manolis – Deputy Mayor
Chrysanthi Epiphaniou
Kostas Konstantinou
Marios Mouyis
Nikos Papapetrou
Alexis Postekkis
Sotera Potamitou
Kyriakos Hadjinikolaou
Yiannis Papaioannou
Pitsa Protopapa
Maro Hadjistephanou
Kostas Pateras
Andreas Pateras
Andreas (Rikkos) Charalambous
Christoforos Christodoulidis
Chrystalla Charalambous
Iro Asprou
Enlightenment Committee
Nikos Hadjistephanou – Mayor
Panikos Manolis – Deputy Mayor
Chrysanthi Epiphaniou
Kostas Konstantinou
Marios Mouyis
Nikos Papapetrou
Alexis Postekkis
Sotera Potamitou
Kyriakos Hadjinikolaou
Anastasia (Brussels)
Kyriakos Triantafyllidis
Georgios Iordanous
Pitsa Protopapa
Housing and Technical Support Committee
Kostas Konstantinou
Alexis Postekkis
Kyriakos Hadjinikolaou
Marios Mouyis
Yiannis Loizis
Georgios Cleanthous
Social Welfare Committee
Nikos Papapetrou (Nicosia-Larnaca)
Panikos Manolis (Limasol-Paphos)
Maro Hadjistephanou
European Programs Committee
Chrysanthi Epiphaniou
Kyriakos Hadjinikolaou
Alexis Postekkis
Marios Mouyis
Despo Sergidou Kyprianou
Andreas Lambrou
Fofi Konstantinidou
SPECIAL COMMITTEES
Fervolite Exhibition
Sotera Potamitou
Kostas Konstantinou
Alexis Postekkis
Pitsa Protopapa
Kallistheni Kosiari
Maroula Manoli
Vasiliki Christodoulidou
Nania Antoniadou
Municipality Property Registry
Kostas Konstantinou
Marios Mouyis
Kyriakos Hadjinikolaou
Panikos Georgiadis
Registers (Citizens, Scouts, Youth, Elderly)
Kyriakos Hadjinikolaou
Panagiotis Manolis
Nikos Papapetrou
Sotera Potamitou
Marios Mouyis
Sotiroula Kyrou
ADVISORY COMMITTEES (Secretaries)
(They are mainly staffed by non-members of the Board of Directors and have a Secretary who is a member of the Board of Directors)
Legal Affairs Committee
Chrysanthi Epiphaniou (Secretary)
Yiannis Papaioannou
Kyriakos Triantafyllidis
Andreas Lambrou
Sotiris Loukaidis
Emily Karaiscou
Christakis Mitsidis
Finance Committee
Kyriakos Hadjinikolaou (Secretary)
Loukis Iakovidis
Andreas Pateras
Panikos Georgiadis
Noulla Frangoudi
Lampros Maouris
Christakis Christoforou
Evanthia Patera
Maro Hadjistephanou
Dimitris Christou
Committee on International Relations
Marios Mouyis (Secretary)
Chrysanthi Epiphaniou
Kyriakos Triantafyllidis
Loukia Mouyis
Konstantinos Kitromelis
Anastasia Christou
Irini Leontiou
Georgios Iordanous
Previous Mayors
| | |
| --- | --- |
| Mayor's Name | Term of Office |
| Kyprianos P. Douvlia (Daktyliades) | 07/06/1884–02/08/1887 |
| Gabriel Fylactou | 02/08/1887-16/05/1888 |
| Iacovos Georgiou | 16/05/1888-02/03/1892 |
| Kyprianos Daktyliades | 02/03/1892-29/04/1897 |
| Michael Constantinides | 29/04/1897-29/09/1900 |
| Nicolaos Paraskeva | 29/09/1900-10/12/1903 |
| Michael Tziakas | 10/12/1903-16/04/1908 |
| Gregorios Hadjilambrou | 16/04/1908-31/03/1926 |
| Constantinos Hadjialexandrou | 31/03/1926-08/05/1927 |
| Christodoulos Hadjikyriacou | 08/05/1927-08/02/1933 |
| Georgios Hadjigregoriou | 08/02/1933-01/06/1946 |
| Demetrios N. Laios | 01/06/1946-01/06/1949 |
| Loizos K. Psathas | 01/06/1946-01/06/1953 |
| Panayiotis Kalavas | 01/06/1953-31/12/1962 |
| Christophoros Kythreotis (Nicosia and Kyrenia District Officer) | 01/01/1963-19/12/1964 |
| Costas M. Stephanides  (Kyrenia District Officer Assistant) | 01/01/1963-19/12/1964 |
| Ioannis Harmantas | 19/12/1964-23/07/1970 |
| Filis Hadjidamianou | 23/07/1970-31/12/1991 |
| Panicos Tsentas | 01/01/1992-31/12/2001 |
| Yiannis Papaioannou | 01/01/2002-31/12/2016 |
| Nicos Hadjistephanou | 01/01/2017 |